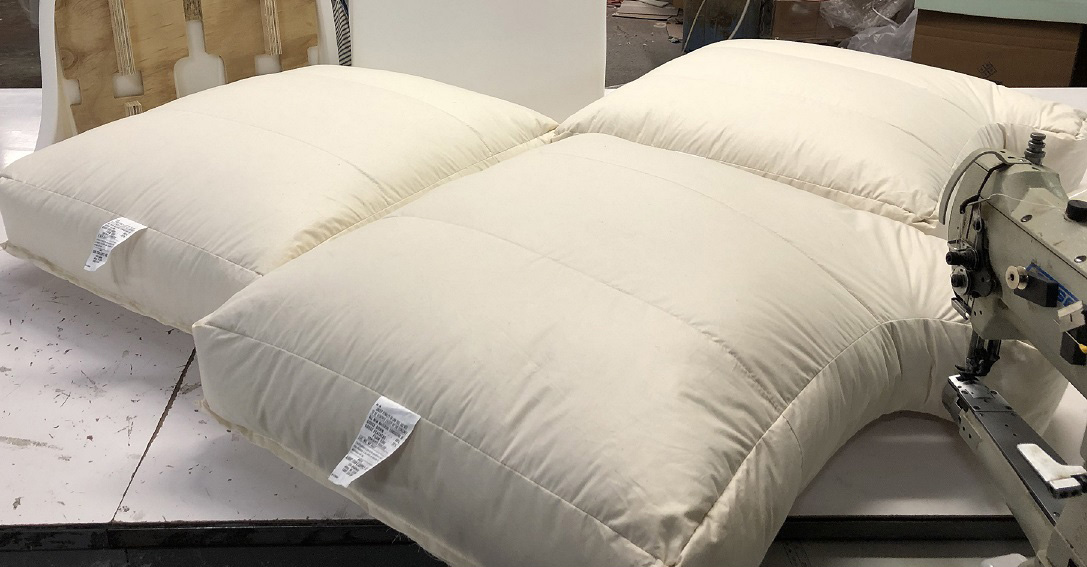 Need To Order Custom Cushions?
Due to the custom work needed on each cushion order, requests for down cushions must be submitted via the form below. We require that you mail templates or fax (Toll-free fax 1(866)844-3626) your down cushion sketches with dimensions and specifications to our customer service department.
Custom Cushion Department
Our cushions are constructed using a high-grade230-thread count down-proof ticking. All fabric panelsin the cushion are the same hi-grade ticking. We do notuse lesser grade fabrics on the parts that go unseen. Thedown & feather fill is completely contained in a tickingenvelope that is baffled to keep the fill from shifting.  The inner cores are protected from the down & feather fill and can be changed without disturbing the fill.  All seams are turned in for a smooth finish.  Choose a foam core, spring core or all down & feather.
Choices of down and feather blend include:
• 25% down/75% feather
• 50%/50%, or
• 80% down/20% feather.
We can also fill cushions with:
• holoslick polyester fiber or
• fiber/down which is a blend of half holoslick fiber
and half 25% down/75% feather.
Foam core: our most economical and popular cushion.
Spring core: Traditional springs are long lasting and resilient
All down & feather: (no core) our softest, plushest cushion,
does need fluffing